The State of the Right in Three and a Half Stories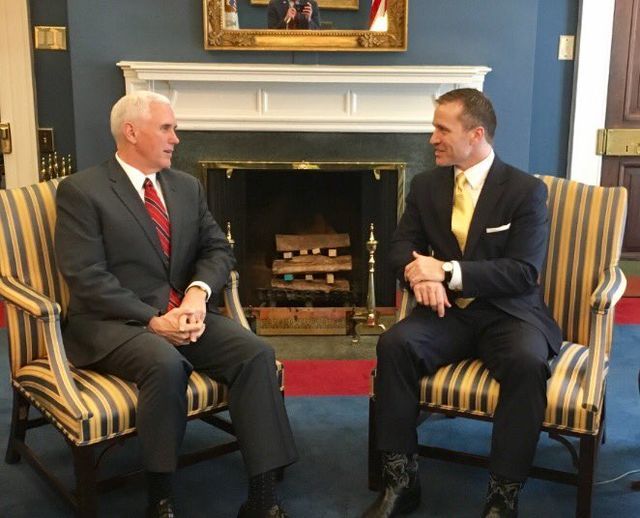 Hey all. It's been a very busy few weeks, but you can expect a couple more posts from me in the next week. Also, if you've got any questions for Mail Time, send them along to nwanevuletter@gmail.com Let's hop to it.
Politics
I haven't been watching the January 6th hearings ⁠— I've had my fill of all that over the last few years of impeachments and confirmations and so on, though I'm glad they're happening. I do wonder whether they're giving liberals and other concerned Americans tuning in the impression that the GOP still belongs fully to Trump. While I think the "theft" of the 2020 election is going to be a live, litmus test issue among Republicans for a long time ⁠— and that Republicans may well try their shenanigans again in 2024 ⁠— there's plenty of evidence, as I've written before, that the leadership of the right is being actively contested right now. And 2020 isn't really central to that fight, as best as I can tell.
In the last week or so, I've found three and a half stories about the GOP particularly illuminating. One is the fallout from Missouri Senate candidate Eric Greitens' "RINO hunting" ad, which you've surely seen by now. I don't have many thoughts about the ad itself beyond a feeling that the mainstream right it targets has spent the last 30-40 years creating the conditions that produced it. Naturally, though, Republican leaders are upset about it. And efforts to tank Greitens ⁠— who is in the lead despite allegations of domestic abuse from his ex-wife on top of the assault allegations that led to his resignation as governor in 2018 ⁠— are intensifying. From the Washington Post:
[T]he opposition is split among factions backing different rivals in the Aug. 2 primary and over disagreements on who should attack Greitens or how, according to people involved in the discussions. They, like others interviewed for this article, spoke on the condition of anonymity to discuss sensitive matters.
Others are preparing to pour millions instead into an independent bid by John F. Wood, a senior investigative counsel on the House committee investigating the Jan. 6 attack. And some are concerned that intervening in the race could play into Greitens's hands by feeding his anti-establishment posturing — or even prompting former president Donald Trump to endorse him.
Two people familiar with Trump's reaction to the Greitens ad said the president expressed that he did not appreciate the content and believed it went too far. But Trump has not commented on the ad publicly, and he sometimes tells different advisers different things, depending on the context of the conversation.
Some Trump advisers have also been imploring him not to endorse Greitens, which could be decisive in the right-drifting state. Among those privately appalled by the ad is Ronna McDaniel, the Republican National Committee chairwoman, who has lobbied Trump against making any endorsement in the Missouri Senate race and made a round of calls to allies and advisers this week to express her displeasure with the video.
The second story is Florida governor Ron DeSantis' decision not to seek an endorsement from Trump⁠ for his reelection — an indication, many have speculated, that he intends to challenge Trump for the Republican nomination in 2024. Interestingly, a recent poll of likely Republican voters in New Hampshire actually put DeSantis ahead of Trump for the primary, 39 percent to 37 percent. Jonathan Chait at New York Magazine:
DeSantis is hoovering up cash from the party's donor class, including the support of at least 42 billionaires. The most telling fact about the New Hampshire poll is that while DeSantis leads Trump by just two points overall, he leads among Fox News watchers by 14 points and among conservative radio listeners by 16 points. Republicans who consume conservative media are getting the message. The voters who are not yet tuned in to conservative media may still name Trump in polls, but they are likely to follow.
Crucially, the support for DeSantis spans the current internal divide within the party between anti-anti-Trump conservatives — who disdain Trump as a liability and wish he was gone but support him against the Democrats — and enthusiastically pro-Trump conservatives.
It's notable, as Chait writes, that the conservative press is driving DeSantis' popularity, even though it might be coming at Trump's expense. That includes the Murdoch-owned New York Post, which gave Trump the finger in an editorial earlier this month.
Trump has become a prisoner of his own ego. He can't admit his tweeting and narcissism turned off millions. He won't stop insisting that 2020 was "stolen" even though he's offered no proof that it's true.
Respected officials like former Attorney General Bill Barr call his rants "nonsense." This isn't just about Liz Cheney. Mitch McConnell, Betsy DeVos, Mark Meadows — they all knew Trump was delusional. His own daughter and son-in-law testified it was bull.
[...] Look forward! The 2024 field is rich. You have Florida Gov. Ron DeSantis, former Secretary of State Mike Pompeo, former UN ambassador Nikki Haley … the list goes on. All candidates who embrace conservative policies without the preoccupations of the Don.
Really, Trump ought to be most worried about the signals coming from figures who didn't mind January 6th and aren't actually confronting him directly. Just look at the roll call of people who stuck with Rep. Mo Brooks against Trump-endorsed challenger Katie Britt in Alabama's Senate primary runoff this week ⁠— the half-story. From Politico:
Even after Trump put his weight behind Britt in the runoff — and as public and internal polling showed Brooks' prospects as weak — top conservative commentators like Sean Hannity, Ann Coulter, Mark Levin and Charlie Kirk declared their support for Brooks up to the final day of the campaign. Kirk, Sen. Rand Paul (R-Ky.), Reps. Scott Perry (R-Pa.), Mark Green (R-Tenn.) and Chip Roy (R-Texas) and Arizona Republican Party chair Kelli Ward spent Monday night on a tele-town hall in support of Brooks, as Sen. Ted Cruz (R-Texas) and Rep. Marjorie Taylor Greene (R-Ga.) also continued to lend their support.
Such a split among conservative leaders who typically kowtow to Trump – but have been willing to speak out against his endorsed candidate – has been a recurring phenomenon in this year's Republican primaries. Longtime Trump allies found themselves opposing the former president in primaries in Ohio and Pennsylvania last month, bitter races that resulted in some Trump loyalists arguing that he was wrong in his endorsements of J.D. Vance in Ohio and Dr. Mehmet Oz in Pennsylvania.
Britt ultimately won and Trump's allies are counting the race as another one of his victories. But Trump initially endorsed Brooks and bailed when it looked like his campaign had stalled. And while it might be a coincidence, it doesn't really bode well for Trump that Brooks started gaining in the polls once he jumped ship.
The third full story hasn't gotten nearly as much attention, but it'll be more important to the trajectory of the GOP than the midterms in the long-run. As Andrew Pettilon recently wrote in Slate, the moaning and groaning on the right about business PR and "corporate social responsibility" flim flam has landed on an actual policy target: "environmental, social, and governance" or ESG investing:
ESG criteria (for "environmental, social, and governance") are a set of standards for public companies' actions that investors use to guide where they put their money. (These criteria could include committing to reduce carbon emissions by a certain percentage by a specific date, allowing employees work-at-home flexibility in light of pandemic safety and child care issues, or requiring that a minimum percentage of the board of directors be female or persons of color.) As more and more investors, large firms, and asset managers have gravitated toward ESG positions in recent years, they have found themselves at odds with a Republican Party that used to count on these institutions as A base of support. Republicans are now striking back, which is why you hear more of them railing against "woke capitalism" and ESG.
[...] A typical example comes from former Vice President Mike Pence, who wrote a May 26 op-ed in the Wall Street Journal ("Republicans Can Stop ESG Political Bias") full of right-wing fervor. He called ESG a "pernicious strategy" from the "woke left" including "an unelected cabal of bureaucrats" and "large and powerful Wall Street financiers" who "almost never refuse to do business with China or Russia." He compared ESG ratings to something from the Chinese Communist Party. He warned that far-left extremists are using ESG to impose a radical agenda and take away our freedoms. In fact, it is Pence who is trying to override the free market, where millions of investors have decided ESG is what they want.
It's not clear what the next Republican administration would actually do here, but a new group has emerged that'll probably be tasked with figuring it out. The "American Free Enterprise Chamber of Commerce" Pettilon writes, has been founded as a kind of culturally right wing alternative to the U.S. Chamber of Commerce which, as conservative as it is, has taken to talking up "diversity, equity, and inclusion" initiatives.  The American Free Enterprise Chamber of Commerce, by contrast, promises on its website to provide "tools for American businesses to maintain access to the marketplace in the face of 'woke capital' and 'cancel culture' threats." They were given a warm welcome by House Republicans in a visit last week, and per Axios, Kevin McCarthy has said he won't meet with the U.S. Chamber of Commerce if he's speaker next year. He and a rising crop of conservative intellectuals are in full alignment here. An excerpt from that National Conservatism manifesto in the American Conservative the other day:
Economic policy must serve the general welfare of the nation. Today, globalized markets allow hostile foreign powers to despoil America and other countries of their manufacturing capacity, weakening them economically and dividing them internally. At the same time, trans-national corporations showing little loyalty to any nation damage public life by censoring political speech, flooding the country with dangerous and addictive substances and pornography, and promoting obsessive, destructive personal habits.
Where does all this leave Trump? A socioeconomic agenda is being developed largely without him ⁠— Trump wasn't exactly a wonk, so that's not too much of a surprise. But he should be troubled that the right seems to be coming to another collective realization: they don't need him for charismatic leadership either. Anti-establishment Republicans are going to have their pick of psychos like Greitens; the establishment is itself taking a shine to DeSantis, and others could fit his mold.
The main thing Republicans have going for them are the structural advantages of the federal electoral system. Still, a genuine GOP electoral majority has always been achievable ⁠— it's just a matter of winning back moderates the party's lost to Democrats with candidates that still retain the trust of the white working class voters the GOP has gained. But I think that's likeliest to happen if the party's post-Trump figures don't seem too outwardly alarming. Youngkin looked and sounded the part more than Greitens and DeSantis; polls and election results over the last few years suggest that the right might be overreaching on LGBT rights and race if they stick to the Rufo/Lindsay path. The anti-ESG stuff ⁠— a step or two removed from taking trans kids away from their families ⁠— seems like an example of how culture war grievances might be repackaged for broader appeal. But I doubt it'll fully satisfy voters in Republican primaries ⁠— especially given that Trump, down but not out, might want to turn up the temperature on social issues to regain the spotlight and his cred.
One last bleakly funny graph, from the Post, on the messaging and ads Republicans are trying out against Greitens:
Republicans are testing out which line of attack against Greitens could be the most damaging. The messages included his personal controversies, such as an extramarital affair and allegations that he attempted to blackmail the woman with whom he had a relationship, as well as his attendance at the 2008 Democratic National Convention when Barack Obama was nominated. Two people who saw the results said the personal attacks moved voters away from Greitens, but not as much as highlighting his Democratic National Convention trip.
Reasons to Be Cheerful

Gustavo Petro is Colombia's first leftist president. From the Post:
His victory, unthinkable just a generation ago, was the most stunning example yet of how the pandemic has transformed the politics of Latin America. The pandemic hit the economies of this region harder than almost anywhere else in the world, kicking 12 million people out of the middle class in a single year. Across the continent, voters have punished those in power for failing to lift them out of their misery. And the winner has been Latin America's left, a diverse movement of leaders that could now take a leading role in the hemisphere.
[...] It happened in Peru, where voters last year elected Marxist schoolteacher Pedro Castillo. It happened in Chile, the free-market model of the region, where 36-year-old former student activist Gabriel Boric brought the left back to power.
And now it has happened in Colombia, a country where the left has long been associated with guerrilla movements over decades of bloody internal conflict. Leftist candidates who dared to run for office in the past were often assassinated. This time around, the conservative establishment's chosen candidate failed to even make it to the second round after his message about the dangers of a Petro presidency fell flat.
All eyes are now on Brazil, the largest country in Latin America, where former president Luiz Inácio Lula da Silva leads polls to unseat President Jair Bolsonaro in October.
A Song
"Nightrider" ⁠— Electric Light Orchestra (1975)
Later.
Nwanevu. Newsletter
Join the newsletter to receive the latest updates in your inbox.